CRANE-RAILS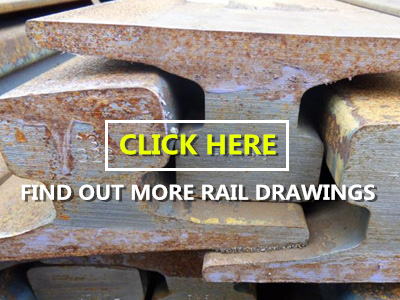 THRAIL rail types:
1. THRAIL heavy rail:rail's per meter weight is over 30kg.
Both THRAIL rail and crane rail are all heavy rail.Train rail:the rail will bear pressure,impulse load and friction while train running,therefore it requires the rail has enough hardness and toughness.THRAIL is strict with rail quality.Besides its chemical component,the mechanical properties,drop hammer test and acid dip leaching tissue are all required to test.Our rail suppliers are Ansteel,WISCO,BAOSTEEL,and PANGANG Group,etc.
2. THRAIL light rail:rail's per meter weight is no more than 30kg.Quality requirements of light rail are inferior to that of heavy rail.Chemical composition,tensile strength,hardness and drop-weight test are needed to ensure light rails quality.Light rails are mostly used in the railways ar forest,diggings,factories and construction sites.
THRAIL rail models:
1. THRAIL light rail models,
Material:Q235,55Q;
Specifications:30kg/m,24kg/m,22kg/m,18kg/m,15kg/m,12 kg/m,8 kg/m
2. THRAIL heavy rail models:
Material:45MN,71MN;
Specifications:50kg/m,43kg/m,38kg/m,33kg/m;
3. THRAIL crane rail models:
Material:U71MN;
Specifications:QU70 kg /m ,QU80 kg /m,QU100 kg /m,QU120 kg /m;
THE MODELS ABOVE ARE THRAIL'S REGULAR MODELS.
THRAIL rail exterior quality:
(1)THRAIL rails should be straight without any significant bending and torsion after rolling.Rail's local bending,torsion,its corrected deformation,along with the inclination shall not exceed standard.
(2)The surface of THRAIL rail should be neat and smooth,free of defects such as crack,scar,scratch.There should be no shrinkage marks and interlayers on the surface.The allowable defects on the rails surface should be within the prescribed standard.
Inquiry for Our Product
When you contact us, please provide your detail requirements. That will help us give you a valid quotation.